As manufacturing systems become more sensitive, intricate and widely distributed, having a software system that easily and accurately allows the visualisation of processes is essential. ThinManager®, by Rockwell Automation and exclusively distributed in Australia by NHP Electrical Engineering Products, is designed to simplify complex production pathways.
At its core, ThinManager® is a content distribution software. From a central server, the program collates inputs from any number of access feeds and then disperses this information to specified locations. What differentiates ThinManager® from other enterprise software is that content can be sent to any device, whether it be a tablet, desktop PC or mobile device. These devices are known as thin clients.
This functionality removes the need for individually calibrated PCs with individual hard-drives, operating systems and other moving parts. Adarsh Emmanuel, Product Marketing Manager at NHP, highlighted how the content distribution software can give manufacturers an advantage against competitors.
"ThinManager® improves productivity. You don't have to worry about logging onto your PC stations at different locations. It saves tonnes of time in terms of maintenance repairs and looking after your infrastructure in general," said Emmanuel.
As each PC and device has a limited lifespan, a device failure in a traditionally organised system could lead to down-time on the factory floor as a new device is installed and calibrated with the requisite software. A system structured around ThinManager® can instantly connect devices, as each thin client is a platform for the visualisation of content sent from a central server. This further removes the need for IT expertise in getting a new device connected to an engineered system – an EtherNet and power connection is all that is needed to get up and running.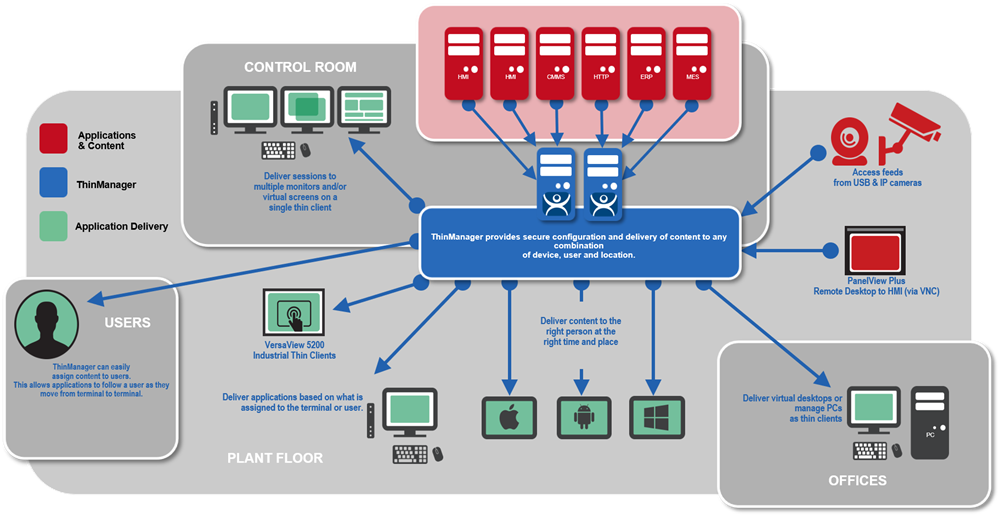 Being device neutral also enables greater mobility. Users can move between various locations across a plant and receive information based on their proximity to a Bluetooth beacon. This allows the use of mobile devices such as tablets and smartphone, without the need for static PC stations.
"If you're visualising a plant on a PC station we can send that exact same content via ThinManager® to any location, any device," said Emmanuel.
Emmanuel went on to emphasise how this functionality is currently unique to ThinManager® within the industrial computing environment.
"Your device will automatically show the correct data for that location, so the user doesn't need to look at any PC station; they can look on their phone, tablet, anything really. That's not easily achievable on any other industrial software environment at the moment," said Emmanuel.
A second key feature of ThinManager® is its software agnostic approach to content distribution. As the platform purely distributes content, the software package that is used by each client can continue, fitting within ThinManager®'s overall architecture. Designed specifically for industrial applications, the product's software agnostic approach allows for the complexity and individuality of each enterprise's software arrangement, crafted for their specific business.
The combination of these features allows for a computing environment that is more secure than previous arrangements. While each client can be removed, all proprietary information is kept on the primary server, and can be limited in its distribution to locations inside a premises. A device taken out of this environment would essentially be a brick, without any way of connection to the home server. While standard safety precautions should still be taken in securing the server, users can be assured that each device is not going to take with it the information that is managed by ThinManager®.
For further security, the system enables server administrators to specify what information is sent to each person. Either at the level of parts of software or pages within a visualisation app, ThinManager® enables the individualised distribution of content.
Currently, the system is distributed by NHP through its partner system integrators. The software platform is designed to be engineered for enterprises' individual needs. NHP and Rockwell Automation are providing Thinmanager certification training to System Integrators across Australia and New Zealand. Interested parties are encouraged to contact their local NHP rep for further information. Having local staff in each state ensures that clients can access tailored support, in addition to support contracts purchased directly from Rockwell Automation.
For those looking to take the next step in the integration and sophistication of their plant visualisation platforms, ThinManager® offers a mobile and low-maintenance solution.