Connecting to the Allen-Bradley PLC I/O is fast, convenient and reliable with the Allen-Bradley 1492 I/O wiring and conversion systems!
Gone are the days of assembling rails of terminals blocks and cutting, stripping, labelling and terminating multiple wires per PLC module. With the Allen-Bradley 1492 system of interface modules (IFMs) and pre-wired cables, connecting the PLC I/Os to field devices has never been a simpler and more accurate process.
The 1492 I/O wiring and conversion system:
Increases machine building productivity
Simplifies design and engineering time
Reduces wiring time anderrors made
Benefit from quality-looking panels
Supports modernisation kitfrom SLC™ 500 to CompactLogix®5380 and 5069 Compact I/O
Supports conversions from 1771 PLC-5® systems to1756 ControlLogix® I/O
The Allen-Bradley 1492 range of pre-wired cables and versatile line of IFMs is designed to simplify your system design. The quick and easy to connect field wiring range minimises the chances of making wiring errors and reduces overall maintenance costs. The compact design of the IFM modules also provides the benefit of reducing the in-panel size for PLC wiring, in some cases by up to 75%.
Quick and easy field wiring solutions not only help to reduce your wiring time and maintenance costs, but the design of the products in the range also allows for accurate connections to be made, which increases overall efficiency. Select IFMs are also available with LEDs and/or blown-fuse indicators, which can help pinpoint issues for quick troubleshooting of problems. With such features, the difference could result in completing 5 boards a week as opposed to 5 boards in 5 weeks!
Allen-Bradley I/O Modules can be paired directly with pre-wired cables, which are pre-tested for easy connection to the I/O with flying leads out for connection to standard terminal blocks. For an even quicker installation, the I/O module can be paired with an IFM module and a corresponding cable with connectors on both ends, allowing for easy connections.
Connecting to the Allen-Bradley PLC I/O is fast, convenient and reliable with the Allen-Bradley 1492 I/O wiring and conversion systems!
To build a suitable solution using the IFM and pre-wired cables, the following steps should be considered:
1) Decide which Allen-Bradley PLC and I/O module is to be wired. Once this is determined, you can narrow the selection for a suitable IFM and pre-wired cable to use.
2) Select suitable IFM and pre-wired cable parts for the I/O module in question. IFM modules are available as both digital and analogue types and are selected according to the PLC digital and analogue I/O module it's being wired to. Apart from this, the IFM boards are also selected based on the number of connections provided on the board (both field wiring and power), requirement of LEDs for trouble shooting purposes, relay modules and fuses integrated to analogue IFM boards to fuse the input device power source on the field-side.
3) Select pre-wired cable length (1, 2.5 and 5 metre standard lengths available). For analogue modules, you need to consider that the cable selection will depend upon the channel configuration example current, differential voltage, input/output etc.
Using an IFM and prewired cable solution will also future proof your system should you need to modernise your PLC system or replace the I/O module. In such cases, maintaining connections to your field devices is as simple as replacing a cable!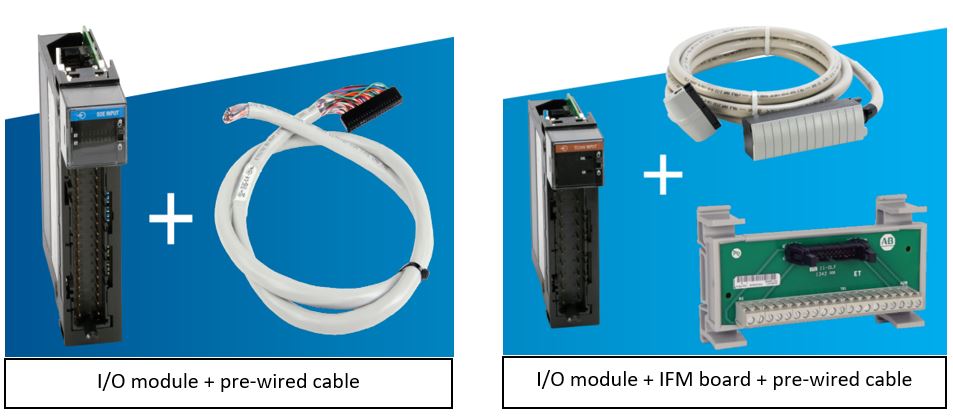 For further information on Allen-Bradley's Bulletin 1492 IFM and pre-wired cables, please contact your local NHP representative or email us:
Australia - 1300 NHP NHP nhpsales@nhp.com.au
New Zealand - 0800 NHP NHP sales@nhp-nz.com