Simplot Australia is a food manufacturer and agricultural business, home to brands that are found in kitchens all over Australia and New Zealand including John West, Birds Eye and Leggo's. They employ more than 2000 people in the region, including at their Bathurst manufacturing facility, which processes corn.
The management of the Bathurst operation had problems with their capacitor-based power factor correction (PFC) unit, which had reached the end of its life. Initially, Simplot engaged NHP to repair their existing system, with the intention of replacing the capacitors with new NHP capacitors. NHP offered to visit the site first to investigate and be certain that new capacitors would be all that was required. Upon inspection, the local NHP Service team uncovered a broader problem with the general power quality on site.
"Before we went to site, based on what the customer told us, we thought that a Static Var Generator (SVG) might do the trick," explained NHP Technology Specialist Shane Townsend, "but once we got on site and looked at it closely, we discovered harmonic distortion was severely impacting power quality on the site.
"At that level of harmonic distortion, a capacitor-based solution just wouldn't work and would be damaged in quick time, and the SVG wasn't the best option for the problem at hand" Townsend explained. "Everything that required correction was in that harmonic mitigation area, so we offered to perform a power quality study to establish what technology would be required and at what size."
This study revealed a very high total harmonic distortion voltage of 7%, approaching the 8% limit allowed by the power authority and above the limits that a lot of equipment will adequately operate under. According to Townsend, most sites typically experience around 2-3% voltage distortion.
The data gathered onsite indicated that the best solution was clearly an active harmonic filter. The NHP team provided Simplot with data that explained why an active harmonic filter was the only option available to them in this situation. While it would be a more expensive solution than simply replacing the capacitors in the existing system, the harmonic distortion onsite was so severe that it would continue to cause power quality devices to stop working, so to purchase and install new equipment for the existing PFC unit would be a waste of time and money.
"The NHP Service team came to inspect the site and they found a lot of other issues with harmonics, probably because of the volume of variable speed drives we have on site nowadays," explained Ryan Rhind, Electrical Supervisor at Simplot's Bathurst site.
After considering the information presented, Simplot agreed that NHP should remove the existing unit and install a brand new Delta Active Power Filter.
"We had a power outage planned at the site," continued Rhind, "so NHP worked around our schedule and did the installation over a weekend. We turned the power off on the Saturday, the NHP guys pulled out the old board, installed the new one, then on the Sunday we powered everything back on, they commissioned it and the job was done. It was pretty quick, actually."
"Once it was installed, everything was working straight away. They asked me to go check on the performance over the following weeks, and I sent a few emails off and they were happy with all the information I gave them, and it's just been running ever since it was installed in 2018.
"I only have good things to say about the job, everyone was good to work with and if I had any questions, they answered them."
Aside from being able to supply Simplot with quality products to solve their power quality problems, NHP's move into providing an end to end service, including an initial site investigation, power quality study, installation, commissioning and assembly provided the customer with the benefit of saving money on equipment that would not have worked, and efficiently ensured a thorough future proof improvement to their power quality.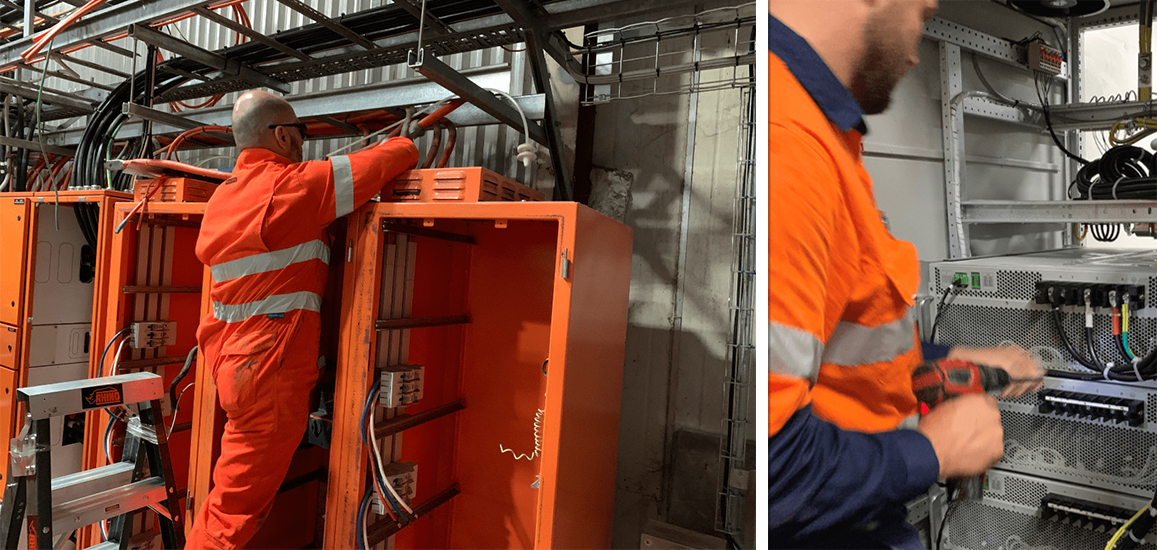 Image left: The NHP Service team assisted in the decommissioning and removal of the existing capacitor-based power quality before installing and commissioning of the Delta 500A APF.
Image right: The NHP Service team recommended a Delta 500A APF and installed it over a weekend to coincide with a planned shutdown
For more information on NHP's SMART Distribution or how NHP's Service team can provide turnkey solutions for your business, please call your local NHP Account Representative or email us:
Australia - 1300 NHP NHP nhpsales@nhp.com.au
New Zealand - 0800 NHP NHP sales@nhp-nz.com