NHP's new corporate video provides an insight into our company's capabilities and how we partner with the local electrical industry across Australia and New Zealand.
The two minute video showcases the power NHP brings to the electrical industry through our core pillars of Local, Choice and Global Partners.
"NHP have a proud history of close to 50 years serving the local electrical marketplace and has built a reputation as one of the premier brands in the local industry. Through the very nature of our business, we are a value-add, bespoke organisation – and it is these aspects that we wanted to share as a story in our new corporate video," says NHP's Chief Marketing Officer, Geoff Thorp.
NHP aims to offer viewers a contextual insight into our capabilities as a locally owned company encouraging viewers to consider how this could apply to their diverse projects and operations.
"In our story, we share a message about NHP's core capabilities and the value that NHP bring to the market we serve. This is a story about how NHP serve you locally, offering you choice in product, technology, service and support which is backed by a global network of world's best products and knowledge," Thorp continues.
"Like all of the team here at NHP, we know our local customer base care about leaving their mark and are proud of their contribution to the industry. It's that local touch that makes us a great partner for industry projects of all sizes. Ultimately we want industry to partner with us when making their decision about a supplier because we are confident that through our product and service offering, we can together achieve great results," concluded Thorp.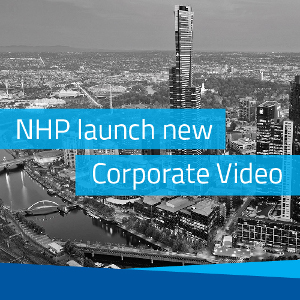 Corporate Video